Flicks in the Sticks 2018

Tickets cost £4.00 (no concessions) and are available in advance from Rowlands the Chemists and the Crossroads Stores or on the night at the Memorial Hall.
Films begin at 7.30 pm.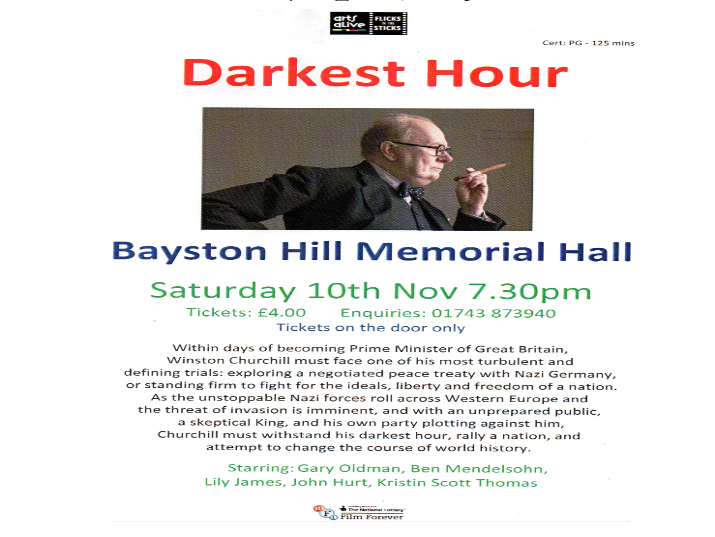 Coming soon
10 NOVEMBER
HIS DARKEST HOUR (PG)
Within days of becoming Prime Minister of Great Britain, Winston Churchill must face one of his most turbulent and defining trials: exploring a negotiated peace treaty with Nazi Germany, or standing firm to fight for the ideals, liberty and freedom of a nation. As the unstoppable Nazi forces roll across Western Europe and the threat of invasion is imminent, and with an unprepared public, a skeptical King, and his own party plotting against him, Churchill must withstand his darkest hour, rally a nation, and attempt to change the course of world history.
8 DECEMBER
THE GREATEST SHOWMAN (PG)
Orphaned, penniless but ambitious and with a mind crammed with imagination and fresh ideas, the American Phineas Taylor Barnum will always be remembered as the man with the gift to effortlessly blur the line between reality and fiction. Thirsty for innovation and hungry for success, the son of a tailor will manage to open a wax museum but will soon shift focus to the unique and peculiar, introducing extraordinary, never-seen-before live acts on the circus stage. Some will call Barnum's wide collection of oddities, a freak show; however, when the obsessed for cheers and respectability showman gambles everything on the opera singer Jenny Lind to appeal to a high-brow audience, he will somehow lose sight of the most important aspect of his life: his family. Will Barnum risk it all to be accepted?